Here are a few ways people have attempted to use a Durso Standpipes with an External Overflow. The Stockman Standpipe is a more common approach.
Doug Brummett's Adaptation of the Durso Standipe
Florin Ilia provided a video of one of our Durso Standpipes with strainer in a CPR C590 hang on the back overflow. This a very nice and clean looking adaptation of the Durso Standpipe with an external overflow chamber.
NOTE: Florin stated "the sound in the clip is misleading, it is coming from the open cabinet, not from the overflow".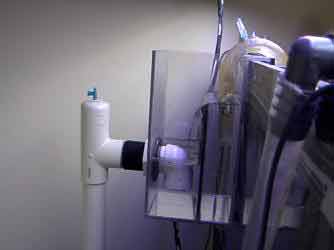 Doug Brummett's Adaptation of the Durso Standipe
Picture by Doug Brummett - uses same design but hooks into a bulkhead added to overflow box.
NOTES: If I were to implement this design, I would recommend that you place the bulkhead opening higher than pictured here. This will help reduce the sound even more by raising the water level height in the overflow box.
The design as pictured here also requires a lot of room behind the tank -- more than most people usually have. I would suggest you drill the bulkhead hole on the side of the box instead.
The blue item on top of the pipe is an air-valve.
This concept can also be used for rear drilled tanks. (Bulkhead on the back glass). However, You would still need to build some kind of overflow chamber around the intake to keep critters out of it and to prevent the water from draining that far down in the event of a power outage.